Upfit Your Van at VanUp
Van Upfitting
Looking to upfit your van?
Drop by our brand new location
in Davis, California at
We proudly offer these top brands, and many more!
Upfitting Services
Upfit your van and go places you've always wanted to go
At VanUp, our customers tell us how they expect to use their van; and we guide them to select the best products that will help them meet their objectives.
Lighting Kits
Illuminate your off-road experience with Agile, Rigid, Baja and KC lights! Enhance the look of any vehicle – from roof racks to bumpers - or use scene lighting for an enchanting evening camp site.
Cargo Boxes
Keep your off-road gear organized and secure with our cabinets! Easily attachable mounting flanges, a gas strut for easy door access, plus an adjustable shelf make these boxes the ideal storage solution. Get yours today to keep all of your essential tools at hand!
Suspension
Our suspension packages, including the Agile Offroad 4700 FOX 2.0 Full Rip Kit, allow you to unlock the full potential of your vehicle and take its on and off-road performance handling capabilities to the next level.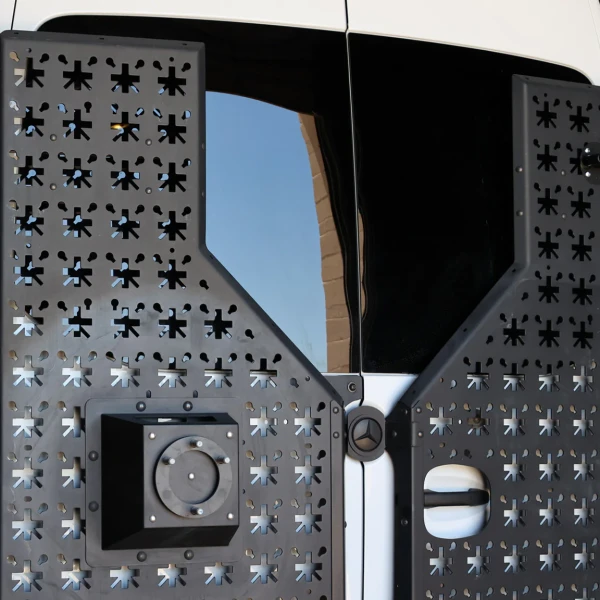 Tire & Box Mounts
Make transporting your cargo a breeze with our unbeatable tire and box mounts - simply secure them to the back of your van for stress-free transportation.
Wheels
Get ready to hit the rocky road with our amazing wheels - they'll take you anywhere, so nothing's off limits!
Additional Services
Transform your van into a work of %$@# wow!
At VanUp there is no such thing as average. Our experts will work with you to pick components that transform your van from ordinary to extraordinary, and ensure your van can do anything you ask of it.
Wrap installation (partial and full body) Nothing says "check me out!" like one of our custom wraps. Wrap the hood, or the entire body, and nobody will mistake you for ordinary.
Window Tinting Block UV rays, reduce the temperature inside your van, and gain a little privacy with our window tinting. What happens in your van, stays in your van.
Clear bra installation Our invisible, self-healing film protects your van's paint or wrapped surfaces from flying debris, bird droppings, acid rain, and polar bears. Maybe not polar bears.
Ceramic coating Protect your paint job, or that new wrap we just installed for you.
Tire rotations You don't want your tires getting wobbly. Bring them in and we'll inspect them and if they're in good shape, we'll rotate them for you.
Wheel Alignments We understand adventure and the toll it can take on your alignment. So stop by and we'll straighten you out.
And much more! Give us a call; we'll send you home with a van that makes your neighbor's jaw drop.
Contact us
Send us a message